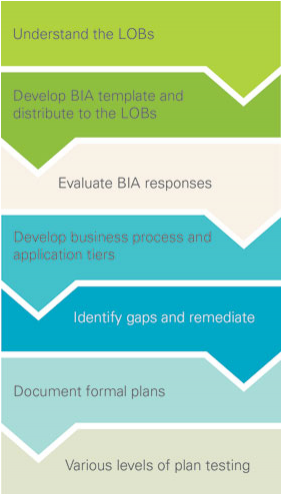 Business continuity and disaster recovery planning are so critical to businesses success that they no longer remain a concern of the IT department alone. It is no longer sufficient or practical to place the responsibility exclusively within one group. Business continuity must become the shared responsibility of the organization as a whole, from the CEO and other senior management, to front line business units that perform critical business processes.
Walton Partners has the ability to recognize your needs and determine the approach necessary to fulfill gaps in business continuity and disaster recovery services. No matter the level of experience and maturity of each of these critical areas, we will develop an understanding and tailor our services to carry you through succession.
Detailed Approach to Business Continuity and Disaster Recovery Planning:
We begin our planning efforts by working closely with your team to develop an understanding of the lines of business (LOB) within your organization. We do this through interviewing key individuals at each LOB to determine the critical business functions, key interdependencies, and supporting technologies.
We then develop a Business Impact Analysis (BIA) template for distribution to the key personnel within each LOB to share with their team. This allows for active participation at each level within the LOB and ensures critical details are not overlooked. Upon collecting the completed BIAs, we will evaluate the responses and develop a business process and application tier listing, which in turn drives the priority of supporting technologies within the Disaster Recovery Plan.
What makes the Walton Partners process so effective is that we understand that:
Business processes are dependent on certain technologies;

Disaster recovery is only a portion of business continuity as whole;

Business continuity requires input and oversight from every layer in the organization.
Our ultimate goal is to help you effectively recover your business and supporting technologies in the unfortunate event of a business disruption or disaster.
This post is also available in: Français